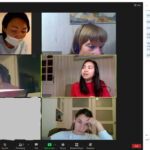 Sarais: To learn Dutch fast I study online.  I can optimize the time with the lessons online because I don't have to waste time to go to school and back home. Besides, I can be taught anywhere in the world and took my first lesson from Madrid.
Moreover, I like Suitcase talen's teacher Margreet Kwakernaak , she is structured and puts pressure on us to learn.
However the time is a bit too short for  me, which is a shame. At my previous school I had lessons three times a week, now twice. I would like to practice grammar more. I try to speak Dutch as much as possible at work.
Alina:  Margreet  is a professional teacher. Thank you Margreet, for your professional lessons!
Especially I like practicing with the students in the break out rooms in the online lessons. I would like to have a lot of exercises with talking.
I have expected the fast pace of learning
Magda:  Firstly, I have expected the fast pace of learning. B1 at Suitcase talen ​​because is a course for people with a higher education.
Secondly, I think it's great that the class is online, I don't have to travel so I have more time. As well, I think writing on the computer (not by hand) for homework  on the Google Drive  is a good and practical experience.
Until now I have learned Dutch myself, I have read and listened a lot and I have done the book  Nederlands in Gang . But now I study online to learn Dutch fast.
Linh: Suitcase talen ​​has online lessons, so I chose this B1. On  the one hand I like the material and the organization of the homework on the Google Drive. Online class is good because it is flexible. When I cannot attend the class and ask for it in time, the teacher sends me the recording. Besides, I don't have to travel,
On the other hand I don't like the fast pace of the lesson.
It's my wish to speak more and have more listening exercises. I do speak Dutch with  my colleague and in the supermarket.
Inga:  My first course I also  did at Suitcase talen. I think the teacher is good, that's why I now also do B1. I like this online class better than the previous class on location I didn't like class on location but the online B1 class is comfortable and interesting. We do have to learn a lot!
I use the Dutch that I learn at work and outside.