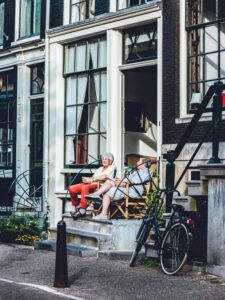 The diversity of topics is the best of Module 3. Population, religion, and marriage in the Netherlands, are more than daily conversations. Those helped me to know the Netherlands more Now I can also introduce my new country to other people in a deeper way.
On the other hand, self-discipline is an important thing in the Delft Method. I need to keep listening, studying, and practicing regularly. The words and concepts of Module 3 are more difficult. – so says Esther from Taiwan.
Students reviewing the Delft method Module 3, winter 2021-2022: the diversity of topics is the best
Sugandh: All of us in Module 3 are now more confident. I have seen genuine improvement when it comes to using Dutch. The difficult part is that the vocabulary is growing so it becomes difficult to remember all the words
Shamirah: For me, the most positive thing about Module 3 is the atmosphere in class. We have a nice group and we can learn a lot from each other.
The negative thing is that sometimes it goes a little bit too quickly for me, the speaking part. Also, I have stayed 3 months in Holland in total.
Fortunately, I can speak Dutch with my boyfriend, he is Dutch. And with his parents and brother. I feel comfortable and they help me when I make mistakes.
The diversity of topics is the best. With our growing vocabulary, we discuss more advanced topics
Zafer: The diversity of topics is the best of de Delftse methode. With our growing vocabulary,  we discuss more advanced topics in Module 3.
I also feel more confident speaking Dutch in public.
However,  Module 3 requires more time for me to learn. Due to personal circumstances, it's been a bit challenging since I also took the grammar course.
Franzi: I liked to do the presentation. It showed me what I already learned so far.
However, it is difficult to always find time to prepare for the classes and to be always engaged, I look forward to the winter break so I have some time just to repeat the vocabularies we learned so far.
Assiata: In this module, Module 3, I am more comfortable in speaking Dutch, because I know more words. 
Unfortunately, up to now, I did not do the Grammar Module so I make a lot of mistakes in my sentences.