Private classes Dutch language at Suitcase talen are for those who cannot attend standard courses. Join Suitcase talen for professional language, exam training, or Delft method training
Normally, private classes are custom-made lessons to focus on one language aspect.
Anyhow, one-to-one classes are perfect when you want to learn intensively within a short period.
In addition, one-to-one classes are a solution for students with irregular working schedule.
Though private lessons Dutch can be done in Almere, distance learning bridges thousands of miles.
Private classes Dutch with Margreet Kwakernaak
Margreet Kwakernaak specializes in highly educated people working in a broad range of professions.
Margreet is a certified senior trainer and certified ONA coach for Civic Integration. Moreover, she has 8 years of experience as an examiner in State Exams NT2. As well, Margreet Kwakernaak is the author of eight textbooks on Dutch. Read more about Suitcase talen and Margreet's classes in Reactions students.
To discuss the possibilities use Contact and mention your situation and request. We will react soon.
Examples of private lessons given by Margreet Kwakernaak:
Delft method private classes level B1 for a Taiwan student
This Taiwan student  (42) successfully took part in 6 Delft method group Modules. However, halfway to level B1, the speed of the evening classes becomes too high. Once the student switches to one-to-one Delft method classes, there is time to deepen the NT2 studies with writing exercises.  In this one-to-one situation, the student chooses 2 online classes of 30 minutes per week: one for the oral part, and the other one to talk through the written homework.
Read here Esther's comment:
I am happy with the privélessen, because they provided me with many opportunities to practice my speaking and writing. In the 30-minute speaking class, I discussed with Margreet about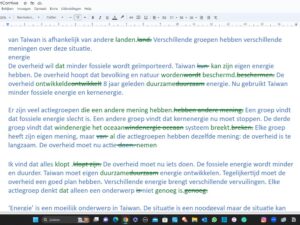 different topics. Because I was the only student, it pushed me to prepare each lesson well. During class time, Margreet helped me and corrected my sentence and pronunciation. Now I can understand more difficult topics in Dutch.
In 30 mins writing class, I learned more grammar and idioms, Margreet helped me to find out my writing mistakes. She corrected each mistake and explained the reason. Now I know which grammar mistakes I make frequently and pay more attention to them. 
I choose online classes. Margreet did a good job on that. The only small suggestion is that maybe more whiteboards can be used in explaining grammar, and if more example sentences can be given, that would be helpful.
Choosing privélessen for Module 8 was a great decision. Margreet helped me to find my weak parts. She also gave practical suggestions. The privélessen was not only ten classes. It is a great tool that helps me continue improving my Dutch.
Esther H., 2023, April 18
Weekly Delft method online private classes for Iranian highly skilled migrant
After having started with two 30 mins classes per week, we switch to one per week. As this Iranian is working from home, one class per week of 30 minutes around lunchtime is a good solution. The one-to-one format offers this IT worker the flexibility he needs: no class when abroad and enough time for his questions, which are more analytical and in-depth than those of others.
Turkish businesswoman passes Civic Integration Exam
Busy businesswoman (52), born in  Turkey, passes the Civic Integration Exam. Though she is living for quite a while in the Netherlands, she works in English. Her Dutch is basic. The practical orientation of The Delft method appeals to her.
In 25 private lessons of 30 mins each with Margreet, she brings her level of Dutch to A2. After 4 months only she passes the Civic Integration Exam, in one go.
Offer
Delft method private classes – online

Preferably planned on fixed days, the classes are paid for beforehand in blocks of 5×30 mins (once per week), € 187,50
or in blocks of 10×30 mins (twice per week), € 375,-. Materials to be ordered and paid by the student,  € 82,50 for A2 materials or  € 89,50 for B1 materials. Materials for level B2 are to be discussed.
Thanks to the efficiency of online classes and the Delft method these are the cheapest private lessons that Suitcase talen offers.
Exam training Civic Integration Exam A2, Civic Integration Exam B1, State Exam Nt2 Program II
The classes are paid for beforehand in blocks of 5×30 mins (once per week) € 187,50 per block.
or in blocks of 10×30 mins (twice per week), € 375,-. Materials for the training will be provided by Suitcase talen, € 30,-
Traditional (not Delft method) private classes on location
15 x 1,5 (22) hrs € 1760,- plus materials (€100-150). One payment for institutions, for private persons 3 installments
All private classes Dutch are on weekdays from 9:30 – 17:30, on location in Almere Literatuurwijk
Margreet speaks Dutch (C2), English (C1), Spanish (B2); German (B2) French (B1), and Russian (A2).
Books written by Margreet Kwakernaak