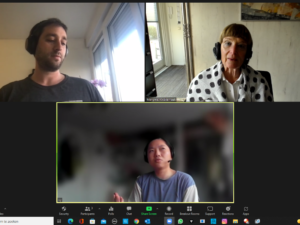 Learning Dutch fast with Suitcase talen and the Delft method. Both are proven ways to learn quickly to speak Dutch. But how does it work?
Why learning Dutch with Suitcase talen and the Delft method is fast
First of all, Suitcase talen's online Delft method is offered in a flexible modular system.
Secondly, the Delft method is a proven way to learn to speak Dutch quickly. It involves more speaking and less grammar than other methods.
In addition, the conversation classes require you to study pretty hard: 2-3 hours of preparation per class, twice a week. Yet Suitcase talen students study alongside their full-time job or caring for their children.
How learning Dutch fast with the Delft method works
In contrast to other courses, you study before, and not after your class. With a book and e-learning, you prepare a text. By doing this, you are very active: you listen, read, pronounce and repeat sentences in the e-learning. After that, you fill in the blanks and check if you know the test well enough with a listening test.
Finally, you have your online conversation class. Your teacher leads you to an interesting group conversation related to the text.
What kind of Dutch do I learn with the Delft method?
Up to level A2 Delft method is mostly about daily life. In addition to the 2200 most commonly used Dutch words, you will learn a lot about the Netherlands and its inhabitants.
Moreover, B1 students dive deeper into the same themes, using the Delft method B1 book and the e-learning, with another 2200 words. Besides, you start using more formal words.
What are the requirements to learn with Suitcase talen?
Students of Suitcase talen are highly educated and have study and computer skills. Moreover, at the end of every module, you are required to pass a test about what has been studied before moving on to the next module.
Learning Dutch (NT2) fast: the modules
Modules 1+2 bring you to level A1 Dutch. A module lasts 5 weeks and has 10 classes.
However, reaching level A2 Dutch with the Delft method requires doing modules 1,2, 3, and 4, of 5 weeks each. A2 is the level of language needed for the Civic Integration Exam up to December 2023.
Continuing from A2 to level B1 requires modules 5, 6, 7, and 8. The B1 level is needed for the Civic Integration Exam for those who arrived after January 2022, the actual State Exam I
In case you are a total beginner and want to pass the Civic Integration Exam B1 (starting from zero), you need modules 1-8 plus exam training.
Exam training A2 lasts 2,5 weeks and has 5 classes. It is offered once per two months.
Exam training B1 lasts 5 weeks and has 10 classes. It is offered once per two months.
Need more grammar? Do one of the grammar modules – or both.
Dates, times, prices 
Delft Method modules start every month. The price per module is € 201,-
Please use the schedule below (mobile)/ at the right (computer) for your planning.