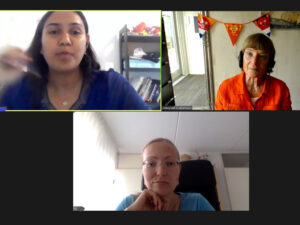 'I know new words and I can express myself in Dutch', according to Sahana. 'But also, the more we go to the end, the more difficult it is. When I speak Dutch outside class, the new words don't always come up in time'.
However, in normal life, I have very little chance to write in Dutch.
Read more in How to remember words, the seven steps
Module 4 students about new words, May 2021
Anna: We learn many new words. At Suitcase talen. I like the nice and easy atmosphere  where you are not scared to talk. However, I feel a lack of structure knowledge. It causes I don't know how to build a sentence on my own and how to use verbs.
Suitcase talen: to solve this problem, we offer two Grammar Modules , focused on verbs and the structure of the sentence.
Yet, I speak Dutch with my children when I walk with my kid and those who do not speak English. Moreover, I sometimes text in Dutch with my family-in-law.
I know new words now
Thilini: I know new words now. When I started I did not know so many words, but now I can write, read and speak a little Dutch. I love  Margreet Kwakernaak's teaching.
With the small number of students, we have good attention for each other. I don't have many chances to talk Dutch outside class, but I can understand now what others say. Once in a while, I write something, but I don't have the opportunity very often.
Julia: I learn more and more new words. When I know new words, I understand all Dutch sentences when listening.
Moreover, I write my letters always in Dutch, though I need a translator to check my writing.
I speak Dutch much better than in the first months
Amar:  I speak Dutch much better than in the first months. As well, in the Delft method, Module 4 classes  are very interesting, though some texts have very difficult words.
I write some Dutch sentences every day at work.
Read more in  Word learning, make it part of your daily life